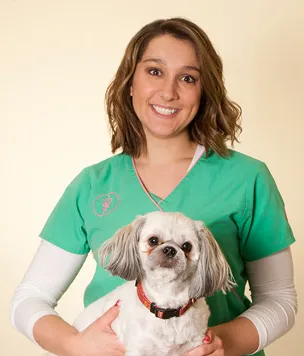 Charisse, Receptionist, Assistant Office Manager & Financial Manager
Over the years, Charisse has worked her way from kennel helper, to veterinary assistant, receptionist, and now assistant office manager. She has earned her associate's degree in Veterinary Science and started with Corfu Veterinary Clinic in November of 2003.
"I love the family atmosphere that this clinic offers not only for its employees but also the clients, and being part of an awesome management team that helps to come up with new and innovative ideas for patient care," she says.
As an expert multi-tasker, Charisse handles client relations and education, as well as financial counseling with our valued clients, and assists our team of technicians and veterinarians.
Outside of work, Charisse spends her free time hiking, gardening and cooking. A newlywed, she and her husband also like to vacation whenever they have the chance.
---
Michelle, Receptionist
For receptionist Michelle, the best part of the work day is when she is able to reassure nervous pet parents that their furry companions are in good hands. "We have the pet's best interest at heart," she says. "We're always finding ways to improve through better medicine and patient/client relationships."
Michelle joined our team in November of 2012 with seven years of experience working at another animal hospital. Michelle oversees our prescription food ordering and inventory.
At home, Michelle has a chocolate lab named Mocha. She exercises every day and spends her spare time curled up with a good book, baking with her daughter, or camping with her family.
---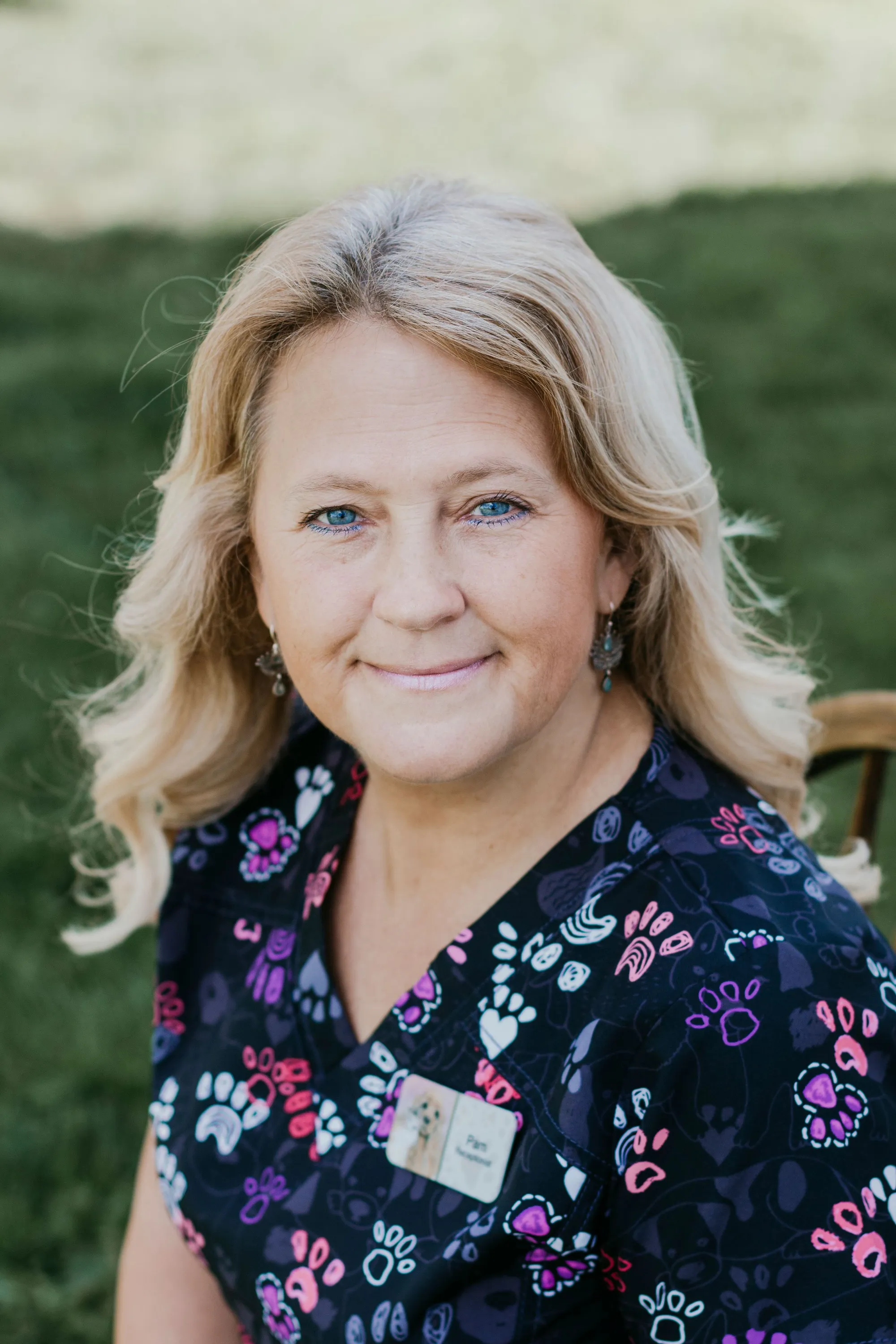 Pamela, Receptionist
Pamela became a receptionist at Corfu Veterinary Clinic in October 2016, where she brings degrees in both business administration and social work. Her job responsibilities include checking clients in and out, filing, answering phones and cleaning. Pamela's favorite part of the job is helping clients and their pets have a comfortable, relaxed experience.
"The staff at the hospital are the greatest bunch of people," Pamela says. "They are compassionate and hard-working, and the teamwork is incredible. They care about the clients and their pet's welfare beyond measure."
At home, Pamela has a 9-year-old cat named Junebug and an 11-year-old cat named Noodle. Pamela and her daughter have been involved with the nearby 4-H program for the past 11 years where they show horses. She enjoys spending time with her two children, Madeline and Chase. Pamela also enjoys gardening, camping, traveling, watching movies and canoeing.
---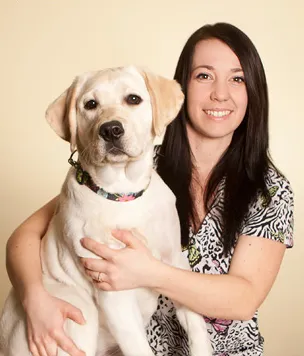 Lindsey, Receptionist
Lindsey joined our team in October of 2013 with more than 10 years of experience in an animal-related field. She began working with horses at a very young age and now manages a 14-horse boarding facility, gives riding lessons, trains horses, and competes in shows and 4-H.
At Corfu Veterinary Clinic, Lindsey provides client education and relations, manages the appointment schedule and offers knowledge on animal husbandry. She is our administrative assistant, helping management with any task needed.
"I love when I get to be with the animals and interact with them!" she says. "I love most of all the standard of care this clinic puts into each and every patient."
Lindsey's hobbies center around anything horse and animal-related, camping, reading, being outdoors, and spending time with her boyfriend, their two girls, family, and friends. She has two black labs (Leena and Dax), a yellow lab (Lakota), and two horses (Move Me To The Front "Butch" and Mr. Mito Dancer "Mito").
---
Candy, Receptionist
Candy joined the Corfu Vet in November 2020. She has always had a love for animals and became a foster family this year for a local rescue organization. Part of her responsibilities include greeting clients at our front desk, checking patients in and providing excellent customer service. She loves meeting all of the adorable patients.
Candy says, "The employees at Corfu Vet Clinic are very caring individuals for both the animals and their owners. They truly care about what is best for everyone."
She enjoys spending time with her family, gardening, doing arts and crafts, and caring for her two dogs, Alice-a 3 year old black lab and Daisy Mae-a 2 year old yellow lab.
---
Delaney, Receptionist
Bio coming soon ....
____________________________________________________________________________________________________________
Aggie, Kennel Assistant
Aggie joined the Corfu Vet Clinic in October 2020. She has worked in the animal field for many years. She worked for the Erie County SPCA for 20+ years, and was the Genesee County Animal Control Officer for 17 years. As our kennel assistant she has helps to keep our practice neat and clean as well as provide a clean and comfortable stay for our patients while they are here at the hospital. It is rewarding for her to see the clinic neat and clean and to see all of the pets that come in. Aggie is energetic and has a positive attitude. She has done agility and obedience with previous dogs she has owned, has experience in selecting and donating canines to Customs and Border Patrol for detection work. She also is a member for the Volunteers for Animals.
"Corfu Vet Clinic is close to my home. People that work here are friendly and professional, a great team!" says Aggie
She enjoys reading, gardening, kayaking, taking care of blue birds, walking, and her 3 cats, Lynxy, Jimmy, and Allie Mae.
____________________________________________________________________________________________________________
Julia, Veterinary Assistant
Bio coming soon ......