Gina, Licensed Veterinary Technician & Operating Manager
Gina began working at Corfu Veterinary Clinic after earning her Associate's Degree in May of 2006. She oversees our entire team of veterinary technicians, while also providing quality care for our patients and valuable education for our clients.
As Operating Manager, she oversees all staff and the day to day operations of the hospital. She is responsible for the training of new staff and oversees all policies and procedures. She also maintains all of the equipment.
"I absolutely love every part of my job!" she says. "I have such a passion for my job and working with animals. Their care and comfort is my first priority as it is for all the staff."
At home, Gina relishes being a mom - not only to her children, but also to her pets. She has two cats named Stumpie and Samuel. She enjoys gardening and camping with her family.
---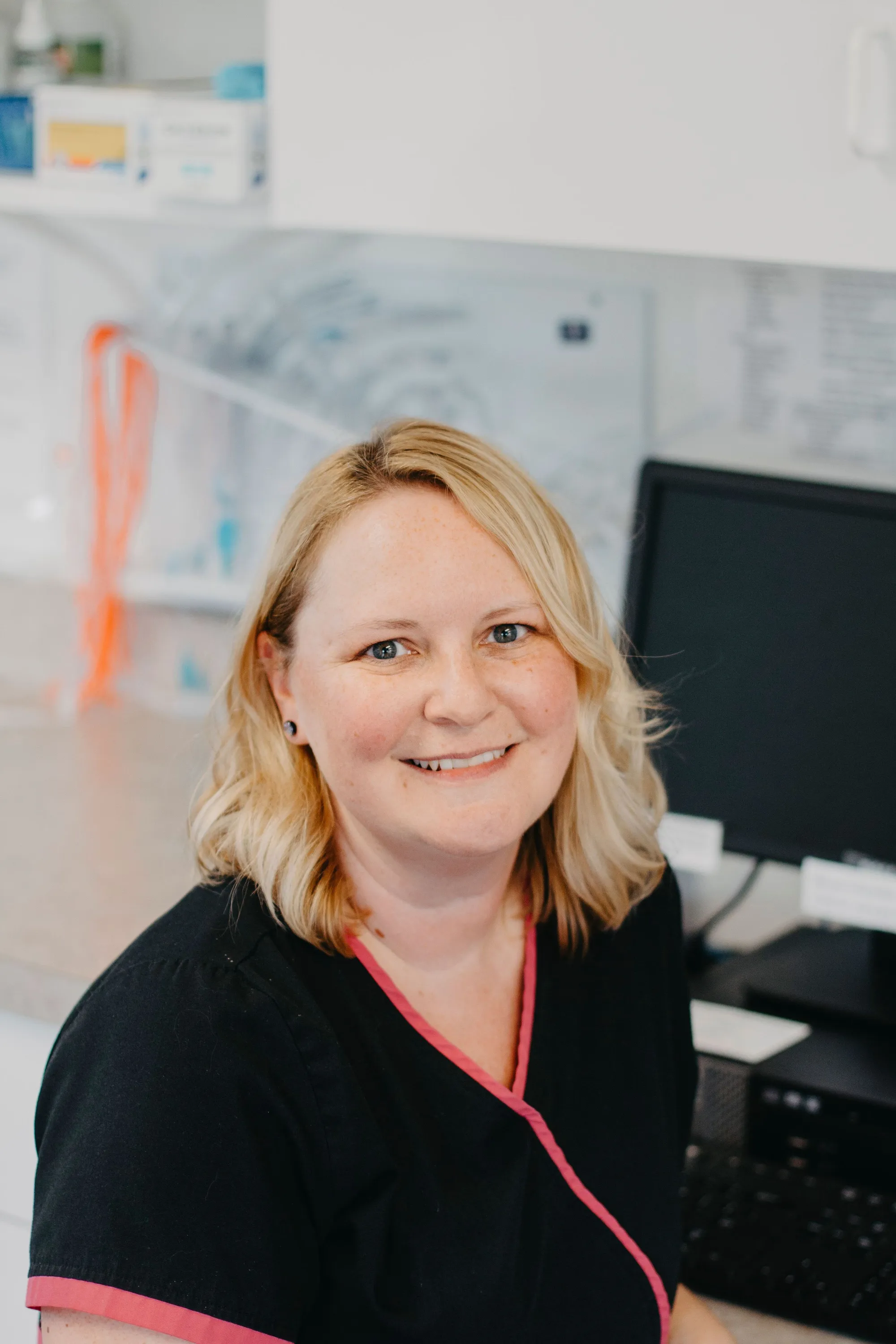 Shannon (Shay), Licensed Veterinary Technician, Practice Manager
With 20+ years of experience, Shannon joined Corfu Veterinary Clinic in April of 2011. She has an Associate's Degree in Veterinary Technology from SUNY Delhi and a Bachelor's in Business Administration from Oswego State College. She is also the current Administrative Assistant for the Buffalo Academy of Veterinarian Medicine.
"I love coming to work every day with such amazing people," she says. "It's so rewarding to be able to help so many pets."
She handles inventory ensuring the clinic has the most current and quality medications available for our patients.
As our Practice Manager, handling Human Resources as well, she has a special interest in employee well-being and creating the best working environment for our employees.
When she's not working, two daughters, her two Labradors, Gus and Tuck, and two cats named Tinkerbelle and Emma keep Shannon and her husband, Rick busy at home.
---
Joyce, Licensed Veterinary Technician
With over 35 years of experience in the veterinary field, Licensed Veterinary Technician Joyce joined our team in March of 2015. With her strong laboratory and cytology skills, Joyce most enjoys lab work and hematology. She also assists with patient care, surgical nursing, radiology, dentistry, client education, and anesthesia.
"It's a fast-paced, busy veterinary clinic where as a vet tech you are utilizing all of your skills," she says.
Outside of work, Joyce enjoys cooking, sewing, kayaking and bird watching. She has four cats, Max, Tater, Vito and Wilby.
---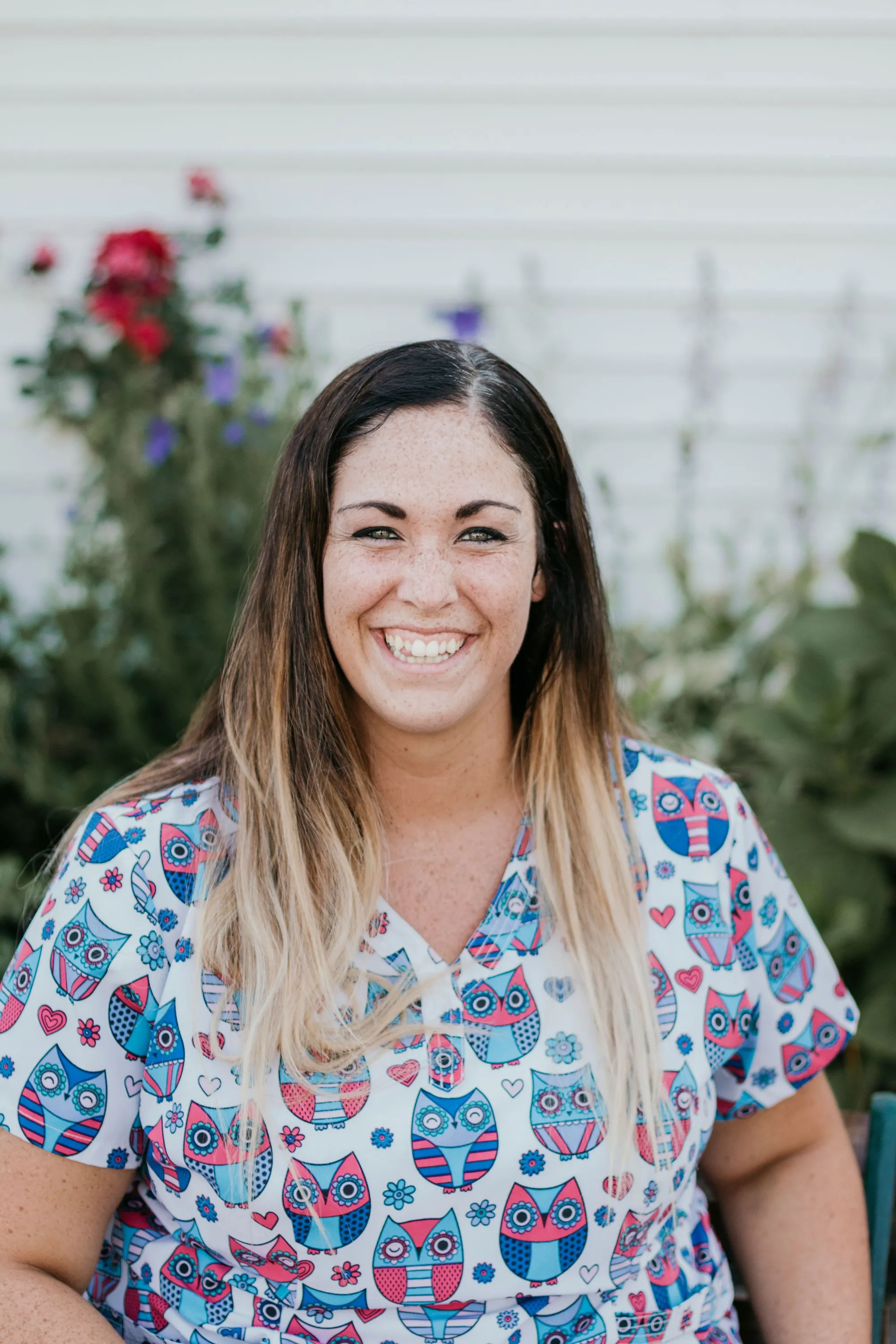 Amber, Licensed Veterinary Technician
Before earning her associate's degree, Amber Hassell became familiar with working in an animal hospital by serving as a kennel assistant and receptionist. She then joined the Corfu Veterinary Clinic team in December of 2013.
"I believe coming to work every day should be something to smile about and that is what happens here," she says. "I enjoy making clients and our patients happy." Amber has a special interest in phlebotomy and client education.
Her home is shared with two dogs (Oakley and Apollo), and a turtle named Norman. She and her husband enjoy watching their daughter participate in a variety of sports and like to spend as much time outdoors as possible with her children.
---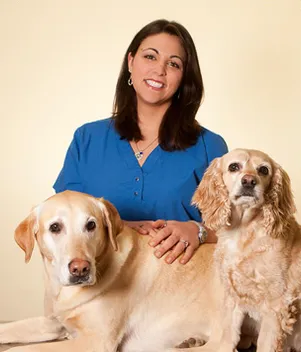 Lauren, Licensed Veterinary Technician
Since April of 2011, Licensed Veterinary Technician Lauren Young has been assisting with surgery, dentistry, nursing, and patient care at Corfu Veterinary Clinic. She has a bachelor's degree in Veterinary Technologies from Medaille College and a special interest in training and behavior.
She shares her home with five Labrador Retrievers, and four cats. She is a loving mother and enjoys hunting and gardening.
---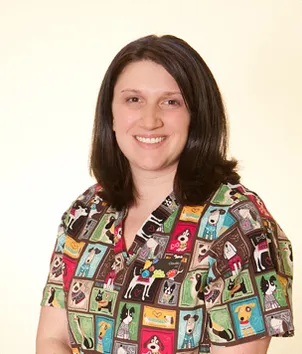 Claudia, Lead Licensed Veterinary Technician, Controlled Drug Compliance Officer
Claudia has an Associate's degree in Veterinary Technology from Medaille College and joined our team in August of 2007. She has a special interest in surgery and is skilled at multi-tasking. As our Lead Technician, she is our point person to guide our technicians and help our veterinarians, she also handles our day to day scheduling of staff. She is also in charge of our controlled drug logs and reporting, keeping us in compliance with NYS and Federal regulations.
"I truly enjoy the wonderful people I get to work with on a regular basis," she says. "They are my other family."
Outside of work, Claudia enjoys baking, gardening, and spending time with her two sons and husband. Their family has two dogs she rescued, and four cats.
---
Leah, Licensed Veterinary Technician
Veterinary technician Leah has an associate's degree from Medaille College, 13 years of experience in an animal-related field, and joined Corfu Veterinary Clinic in July of 2008. She assists with anesthesia monitoring, surgical procedures, taking x-rays, client education and dentistry. Leah is a valuable asset to Corfu Vet. She is excellent at organizing and multi-tasking to make sure our day to day operations are efficient. She is also one of our surgery scheduling technicians.
"Dr. Gardner is great to work for," she says. "We all work so well together and have so much fun. The clients we have are great people, too. They care so much for their animals."
Leah's own animals include a cat named Bunny, a snake named Tarquin, Two black Labradors Griffin and Odin, and a guinea pig named Sunny. Her hobbies include fishing, camping, skiing and hunting with her family, as well as spending time with friends.
---
Brandi, Licensed Veterinary Technician
Brandi joined our team in December of 2018. She has an associate's degree in Veterinary Technology from Alfred State College. She spent her first seven years working in emergency and specialty veterinary medicine at The Veterinary Specialist and Emergency Services in Rochester, which has given her many skills that she has brought to Corfu Vet that have helped us provide even better care for our patients. She has a special interest in patient care and anesthesia.
Outside of work she enjoys spending time with her family, her two dogs, Taco and Ruger, and her cats, Jimmy and JJ.
---
Emma, Licensed Veterinary Technician
Emma joined our team in April 2019. She attended Genesee Community College and received her associates degree in veterinary technology in 2017.
She has experience working with small animals, large animals, and exotics. She has a special interest in phlebotomy, surgery, and working hands on with patients. She enjoys our fast pace, and taking on additional responsibilities. Unique cases peak her interest. Emma is in charge of our laboratory, making sure supplies are ordered and equiment is maintained.
When not at work she enjoys the outdoors hunting, shooting bow, four-wheeling, and motorcycle rides. She has three dogs, Riley, Bam Bam, and Nova, two cats, Muzzie and Phoenix.
"If I had a bigger house I would take in even more animals"
---
Bree, Licensed Veterinary Technician
Bree started with Corfu Vet in August 2020. She received her Associate's in veterinary technology from Medialle College in 2018. She has experience as an operating room technician as well as general practice. She enjoys phlebotomy and surgery and strives to continue to learn more and become even more efficient for her patients. Bree is one of our surgery scheduling technicians, working with clients to schedule surgeries for their pets.
"Everyone is a family and loves helping our patients and each other, making it a very good and supportive environment"
Bree enjoys camping, hiking, riding motorcycles, and of course spending time with her two dogs, Apollo-a 6 year old Akita, Onyx-a 6 year old Lab Mix, and her 2 year old cat Meredith and her new addition, Alexei.
---
Tarryn, Licensed Veterinary Technician
Tarryn joined the Corfu Vet in September 2020. She received her Associate in veterinary technology & business administration from Genesee Community College in 2019. She has always had a love for animals, and grew up with horses which are a big part of her life as well. She really enjoys performing lab work and working with clients. Tarryn is also one of our surgery scheduling technicians.
"Corfu Vet has a family atmosphere, and interesting cases!"
She is a member of the Attica Rodeo and Show Association. She enjoys barrel racing, riding her horses- Stryker and Poppy and spending time with her dog, Marley. She also has a cat named Raven.
---
Emily, Licensed Veterinary Technician
Emily started at our clinic in August of 2020 and has 6 years of experience. She works side-by-side with clients and their pets to further education and likes phlebotomy, being in the lab and learning new skills.
Emily is a licensed Veterinary Technician and graduated from Medaille in 2017. She started her career with birds and exotic pets and is happy to be working at a clinic that feels like family where the pets, clients and the employees are taken care of.
She spends her free time with friends and family and playing softball. She also likes to hang out with her dogs Duke, Springer, and Mia, read with her cat Bagheera, and sunbathe with Nova, her bearded dragon.
---
Jen, Licensed Veterinary Technician
Jen has been a licensed veterinary technician at Corfu Veterinary Clinic since June 2016. She earned her Associate degree in
Veterinary Technology from Medaille College and is licensed in the state of New York. Jen's daily responsibilities include client education, laboratory work, assisting in the treatment of patients, radiology, dental cleanings and monitoring surgical patients. Jen cares for the pets as if they were her own and says her favorite part of the job "is being there for animals in any way possible."
"I love how the owners of Corfu Veterinary Clinic think of everyone as family, and it shows by how great they treat their employees and how much they care about our clients and their pets," Jen says.
At home, Jen has a 3-year-old American bulldog and pit bull mix named Diesel. In her free time, she enjoys hiking, kayaking, biking, snowmobiling, practicing yoga, going on adventures and exploring new places.
---
Alexis, Licensed Veterinary Technician
After graduating from Medaille College in 2021, Alexis has since completed
her veterinary technician license in New York state. As a full-time
technician, Alexis is most likely to be spotted checking-in clients to take
down a patient's history or in the pharmacy filling medications. She is
enthusiastic when helping clients understand their pet's visit and loves
being in the lab to view different things under the microscope.

"The people I work with are an awesome bunch and Dr. Gardner is great to
work for!"

Alexis has experience dog sitting and enjoys being with her three dogs
Milo, Molly and
Cooper, along with her cats Toby and Nacho. In her free time Alexis likes
to read, paint, roller skate and keeps her zen with yoga.
---
Bobbi, Licensed Veterinary Technician
Bobbi has been a licensed technician for 11 years and has experience in the
field even longer as a groomer and a kennel assistant. Bobbi graduated from
the Vet Tech Institute in Pittsburgh and joined our team in May of 2021.
She is very interested in canine behavior, brings great energy to our team
and is always kind enough to teach us something new. She appreciates the
supportive atmosphere as "…it allows us to put our patients and clients
first!"

Bobbi is dedicated to the animals in her life and lives with her bird
Amora, her cats Bellatrix and PSL, and her dogs Arya and Odessa. She has
fun participating in agility training with Odessa and the North American
Dog Agility Council. She enjoys sewing and tabletop games in her free time.

---
Victoria, Licensed Veterinary Technician
Victoria bio coming soon...
---
Leah, Licensed Veterinary Technician
Leah started at Corfu Veterinary Clinic in July of 2021 as a kennel
assistant and has since moved on to becoming a full-time licensed
veterinary technician after she graduated from Medaille College. She is
very industrious and loves interacting with the patients. She checks-in
clients, takes on tech appointments and always helps when anyone needs a
hand.

Leah likes to keep up with the fast-paced environment here at Corfu and her
background in pet-sitting has helped her achieve her goal of making sure
both the client and patient leave happy.

When she's not hanging out with her Beagle-mix Abby, she likes to spend her
time with her family and friends and enjoys painting, riding ATVs, doing
anything outdoors and shopping.

---
Aleiah, Licensed Veterinary Technician
Aleiah graduated from Genesee Community College in 2017 with an Associate's Degree in Veterinary Technology. She has fun working hands-on with the patients, educating clients and doing lab work – but what she really likes is coming to work and "…knowing I make a difference in an animal's life"!
Aleiah brings her love and knowledge of animals both big and small with over 8 years of experience both professional and personal. She joined our team in January of 2023 and is enjoying the family-oriented atmosphere. She is currently training her new quarter horse, Noodle, for team penning and barrel racing in the Attica Rodeo and enjoys hiking and gardening. She also loves to walk with her 6 dogs: Scout, Primrose, Ike, Bindi, Kimber, and Potato. At home, she hangs out with her kitties Nigel, Ties, and Genny and her leopard tortoise, Sprout.